27 mai 2015
3
27
/

05
/

mai
/

2015
09:57
We will launch the beta test of our new website in mid-June. All the data contained in current blog will be available on the new internet site with a lot of new information related to equities (current valuation, DCF fair value, business description, portfolio analysis...) , sector allocation, sentiment indicators, intraday quant models...
As it will be difficult for us to work on both sites, we will reduce the number of updates on current blog from daily update to twice a week. Nevertheless, if you want FREE ACCESS to the new internet site during the test period, send us an email:
sigmatradingoscillator.com@gmail.com
Europe:
The Sigma Whole Europe Index was under heavy selling pressure on Tuesday. The 'abc' pattern remains valid at this stage. We continue to expect further weakness in coming weeks.
It is important to notice the 10y Bunds Future (10y German government bonds) broke a major uptrend, this sounds bearish for bonds and equities. Why? If interest rates move higher, this negatively impacts the relative attractiveness of equities relative to bunds (and also valuation when we actualize free cash flow).
The Sigma Trend Index is close to its zero line. The Swing came in at '2' telling us the decline was rather impulsive.

United States:
The Sigma Whole Market Index hasn't been able to break its trading range and the DJT continues to decline. As the DJT hasn't confirmed the DJI's new high, this sounds rather bearish according to Dow Theory.
The Sigma Trend Index declined to '-12', let's see if this index remains in negative territory or if it is able to bounce back.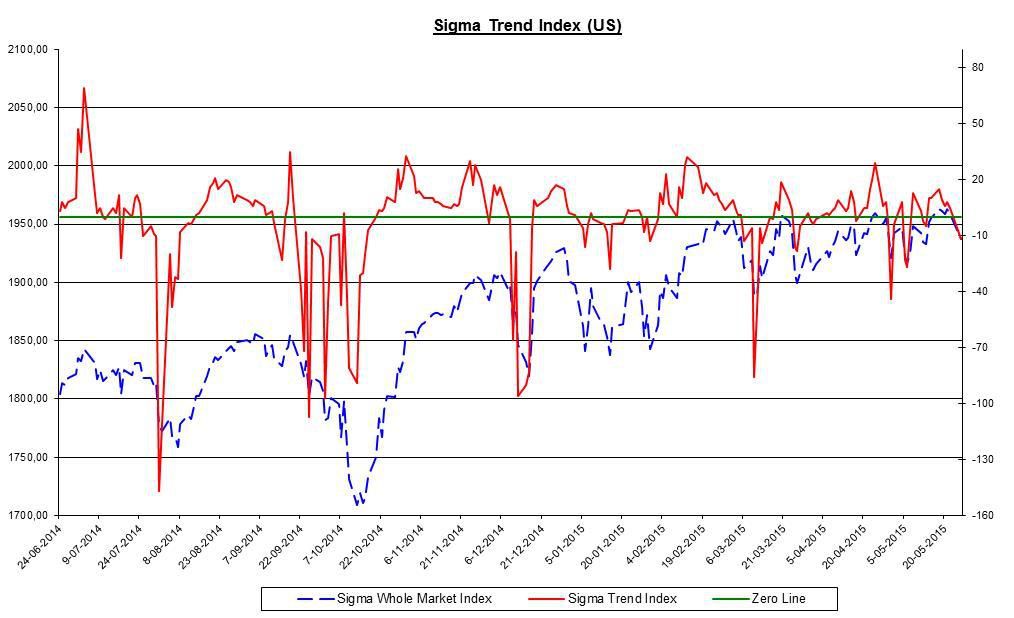 There is no change in our daily trading book:
- SPX: long at 2107.53 (stop @ 2042, 3pts below the ST model to take into account bid/ask spread)
- NDX: long at 4236.28 (2014's close) (stop @ 4340, 5pts below the ST model to take into account bid/ask spread)
- CAC: stopped
- EuroStoxx50: stopped
- DAX: stopped
- IBEX: stopped