27 mars 2015
5
27
/

03
/

mars
/

2015
07:29
Europe:
The Sigma Whole Europe Index was under heavy selling pressure in the morning but the market was able to bounce back after the US open and the close of the session, the decline was rather limited. If the market can't decline below yesterday intraday low by the end of next week, this will be bullish for the market.
It is also important to notice the EUR/USD had a wild day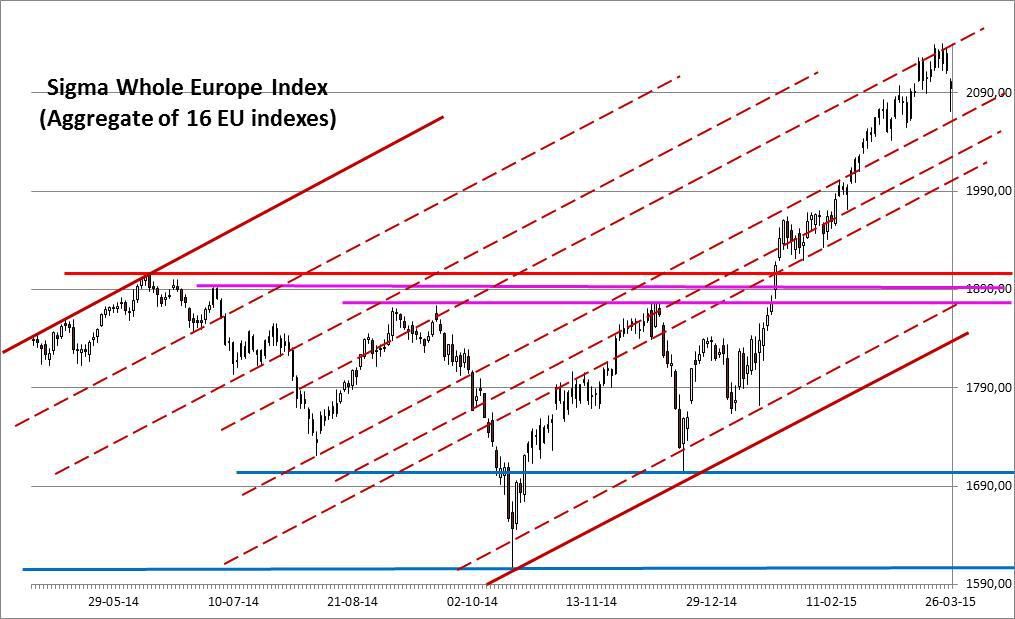 The Sigma Trend Index is right at '0', let's see what happens from here. The negative divergence between the Sigma Trend Index and the Sigma Whole Europe Index is still in place.
United States:
The situation was roughly the same than in Europe but the rebound was less impressive. It is important to notice the bounce back came around a major support area.
The DJ Transport remains an important index to track. A break of this support area would be bearish for the market.
Daily trading Book:
- SPX: stopped
- NDX: long at 4236.28 (2014's close) (stop @ 4201, 5pts below the ST model to take into account bid/ask spread)
- CAC: short at 5028.43 (stop @ 5182, 5pts above the ST model to take into account bid/ask spread)
- EuroStoxx50: short at 3673.71 (stop @ 3782, 5pts above the ST model to take into account bid/ask spread) stopped
- DAX: no position, model short (stop @ 12279)
- IBEX: stopped
The Sigma Trend Index declined to '-18'