24 avril 2015
5
24
/

04
/

avril
/

2015
12:28
Europe
The Sigma Whole Europe Index remains volatile (on an intraday basis). This market is driven by market rumours/declaration related to Greek negociations. In this context it is difficult to have high conviction for the time being.
The Sigma Trend Index remains close to its zero line. Both the Swing and the Power Level were neutral (at '3') on Thursday.
United States:
With the uncertainty back in Europe, US markets are leading. The Sigma Whole Market Index is close to break its trading range and to print new highs.
The NDX is already printing new highs => this sounds good for the market.
The Sigma Trend Index continues to increase and it is now at '20' => closer and closer to the key '34' level.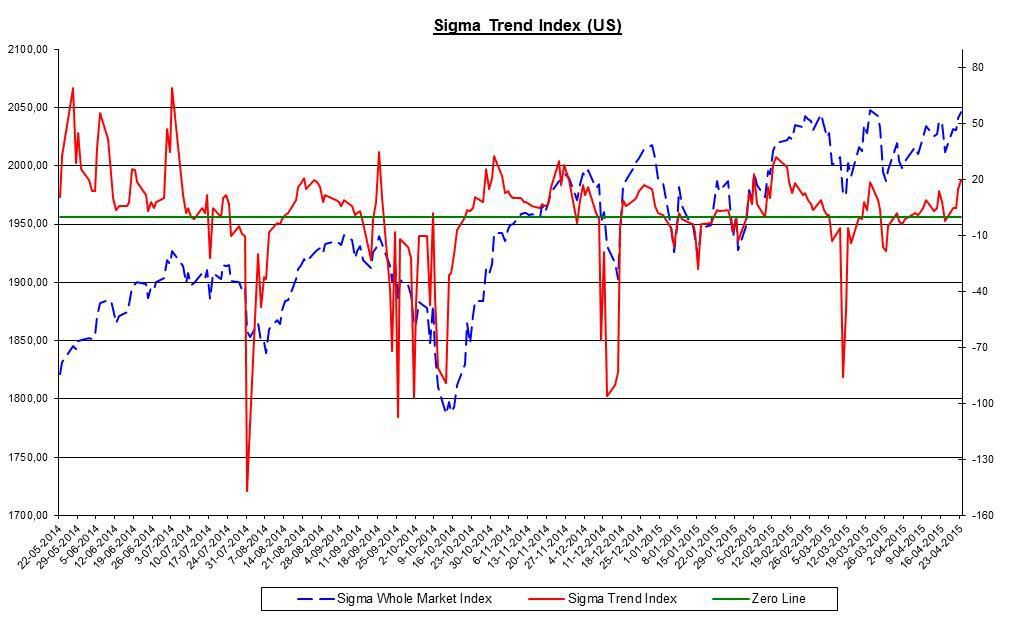 The ST model uplifted its stop on the NDX.
Daily Trading Book:
- SPX: stopped
- NDX: long at 4236.28 (2014's close) (stop @ 4205, 5pts below the ST model to take into account bid/ask spread)
- CAC: theoretical short at 5136.9 (stop @ 5296, 5pts above the ST model to take into account bid/ask spread)
- EuroStoxx50: stopped
- DAX: stopped
- IBEX: stopped